Digital Prints
merry&Black Holiday Greeting Cards: Digital Prints for a Joyful Season
What Are Digital Prints? Digital prints are high-quality digital files that you can easily download and print at your convenience. These prints offer a flexible and eco-friendly way to enjoy beautifully designed products. With digital prints, you can print as many copies as you need, whenever you need them, directly from your home or at a local print shop.
Our Holiday Greeting Card Collection Celebrate the holiday season with merry&Black's exclusive collection of digital holiday greeting cards. Our cards are thoughtfully designed to reflect the joy and warmth of the holiday season, with a special emphasis on celebrating Black culture and heritage.
Each card in our collection features unique artwork and messages that resonate with the festive spirit. From traditional holiday motifs to contemporary designs, our range includes styles to suit every taste. Whether you're looking for something elegant and classic or vibrant and modern, you'll find the perfect card to express your holiday greetings.
Easy and Convenient Our digital holiday greeting cards are easy to access and use. After purchase, you'll receive a high-resolution digital file that you can download straight to your computer. These files are ready to print, so you can create professional-looking cards in minutes. Print them at home, or for a more polished look, take them to a local print shop.
Personalize Your Season's Greetings Add a personal touch to your holiday messages this year. Our digital prints allow you the freedom to customize your cards, whether it's adding a handwritten note or printing them on your choice of paper. It's a thoughtful and personal way to connect with friends, family, and colleagues during the festive season.
Embrace the spirit of the holidays with merry&Black, where each card is more than just a greeting – it's a celebration of culture, community, and the joy of the season.
Boxed Sets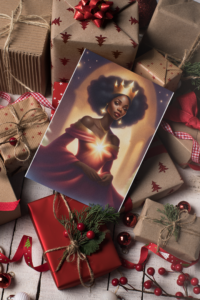 Get Your Exclusive Boxed Set of Cards Delivered Right to Your Doorstep!
🌟 Special Offer: For just $18, including SHIPPING!
Looking for a unique way to express your thoughts and sentiments? Our boxed set of cards is the perfect choice! Crafted with love and care, these cards are not just stationery; they are a medium to connect, share, and celebrate every little moment of life.
💌 What's Inside?
A beautifully curated collection of cards, perfect for any occasion.
Each card is a piece of art, ready to convey your message in style.
💫 Why Choose Our Cards?
Exceptional quality and design that stands out.
Ideal for personal notes, thank-yous, birthdays, and more.
🚚 Hassle-Free Delivery
We understand your busy schedule. That's why we offer direct shipping to your doorstep.
No hidden costs – just a flat rate of $18, shipping included!
💡 How to Order?
Simple and easy! Send us an email to order.
🌈 Spread Joy with Every Card
Each card you send out is a ripple of happiness. Make your mark with our exclusive cards.
🌟 Order Now and add a personal touch to your every message!